Patrick Miller owns 2 Haight Guitars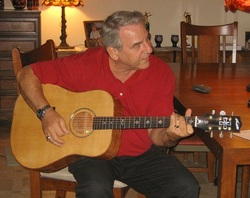 Rick is our first custom guitar owner. He walked into our tent at Pioneer Village and said he wasn't interested in any new guitars because he'd just bought two Martins. Sharon said, "Oh, that's too bad." Taken aback, Rick asked why. Sharon just handed him a Haight guitar and sat back. After a few strokes, Rick looked up and said, "Oh."


---
What Patrick has to say about his Haight Guitars

"I am delighted to write and say that I am a totally satisfied customer & owner of one of Norm's custom made guitars. I am pleased to mention that I have received nothing but the finest personalized service possible with all the extra touches at a price more than fair. I am, in fact looking forward to my next customized Haight Guitar."


The Eagle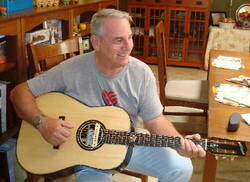 Well, this is Rick's second Haight guitar. It features an eagle and stars inlay and replaces the 1976 bi-centennial Martin that Rick had just purchased before learning of Norman's great guitars.

Congratulations Rick.
---