Welcome to our store

If you're looking to purchase a Haight Guitar, there are a few available. Norman only builds about 5 guitars a year; mostly custom work. If you'd like to talk to him about building your dream guitar for you, please click on the Contact Us link to the left and send us an email with your phone number and email. Norman will call you and Sharon will email you our design brochure.

---
How to properly care for your acoustic guitar
and
How to communicate effectively with your luthier.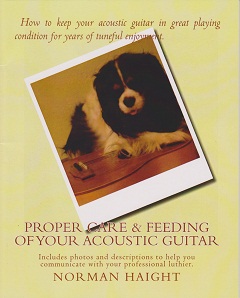 This book by Norman Haight accompanies seminars he gives on how to properly care for your acoustic guitar. It not only has wonderful, full color photos; but it has many useful tips on how to talk to your local luthier/repair person.
Buy It Now for only $12.95.
---
---
Our favorite CD


What could possibly bring together 17 recording artists (& 10 professionals) from jazz to reggae on a single unbelievably diverse and fantastic CD? Nothing less than "Lovin' Haight Gutiars." As one artist said, "There's no love in a factory instrument," but as evidenced in this CD, there's lots of love to be found in a Haight Guitar.

Try it out at CD Baby or

Buy the CD – $10 including s/h in USA
---
---
Logo Microfiber towel


We use these microfiber towels to wipe down our guitars after playing them. They are easy on the finish and absorb sweat off your instrument. We do recommend that you not use fabric softener dryer sheets because they contain wax and will plug up to slight abrasion these towels possess. Our towels are large: 16" x 25", and embroidered for long life.

Logo Microfiber towel: $25 + $4.95 s/h